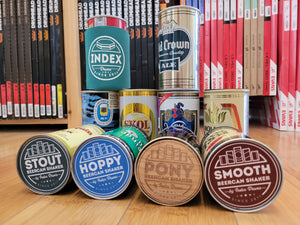 Index Drums
Percussion - Index Drums Beer Can Shaker
Regular price
$15.00
$0.00
Unit price
per
Index Drums
Beer Can Shaker
The Hoppy has a crisp tone, with medium attack and volume. It's on the louder side of the 30 shakers we tested at the drum shop, with a rich metallic sound and good control.
The Smooth is much quieter than the "hoppy", and more suited for small venues. This is on the softer side, but with the same metallic flavor. Similar fill to the ever-popular egg shaker.
The Pony is similar to the Hoppy, but without the metallic attack and a little lower volume. We use any non-12oz cans for the Pony, so you might get a 12oz or you might get a 10oz or 8oz.
The Stout is a wild organic shaker with tons of personality. It kind of tumbles along, crunching it's way through your tracks, making everything a little better.
---